You start your incredible journey in modern Santiago de Chile to have one day after cold southern Chilian coast with pinguins and glaciers, pass to Argentinian side and explore glaciers on that side and finishing with great steak and wine in Buenos Aires.
HIGHLIGHTS: Santiago di Chile, Balmaceda and Serrano Glaciers, Torres del Paine , Perito Moreno Glacier, Buenos Aires
Flight to Santiago di Chile, transfer to the hotel, free time.
After breakfast we will start our CITY TOUR. Your group tour takes you through the main streets of Santiago's civic center with its many different architectural styles. You'll pass the neoclassical Moneda Palace, built in the 18th century and current seat of Government; the Plaza de Armas, or main square, with its cathedral; the Museum of National History; and the Central Post Office. Then continues to the Parque Forestal, based on Paris' Champs-Elysees and Santa Lucia Hill, where the city of Santiago was founded in 1541. You'll continue to the bohemian area of Bellavista and climb the Saint Lucia hill for a panoramic view of Santiago with the Andes mountains in the background. After we will continue with a visit to the handicraft village of Los Graneros del Alba. This attraction is closed on Mondays, when an alternative attraction is substituted. Back to the hotel.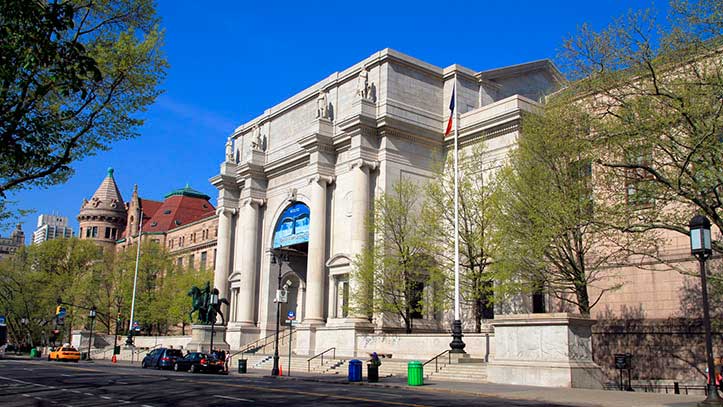 Flight to Punta Arena after breakfast where we start our Isla Magdalena tour to see Los Pinguinos Natural Monument – island full of small (around 61 cm tall) pinguins. After around 4 hours trip by boat return to the town and free time.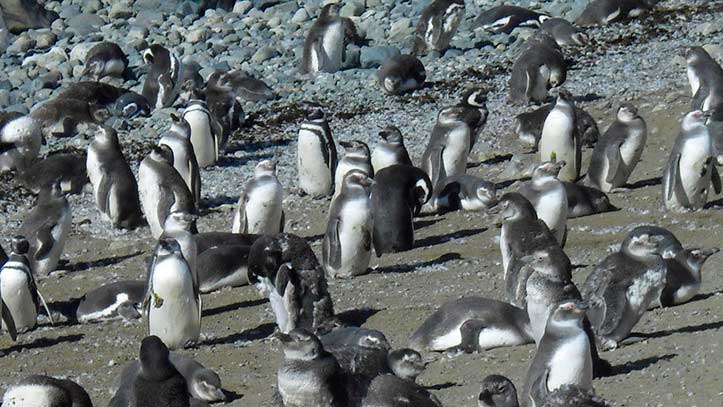 We start our trek from catching bus to Puerto Natales bus station, from where you'll be transferred to the hotel. The rest of the day and night are yours to explore on your own.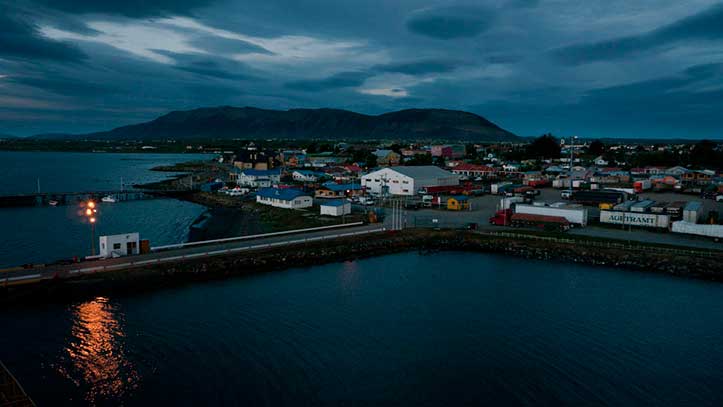 After breakfast at your hotel, a full-day trip starts with an early morning cruise from Puerto Natales to Ultima Esperanza Fjord. The three-hour cruise takes you through stunning Patagonian scenery to the 1,000-year-old Balmaceda glacier, home to cormorants and sea lions. At the head of the fjord, disembark to take a short 20-minute walk through forest to the foot of the Serrano Glacier, surrounded by snow-capped peaks and walls of ice. Meantime during the day we will stop for lunch at Estancia Perales, a traditional cattle ranch, on the return trip to Puerto Natales. Rest of the afternoon free time.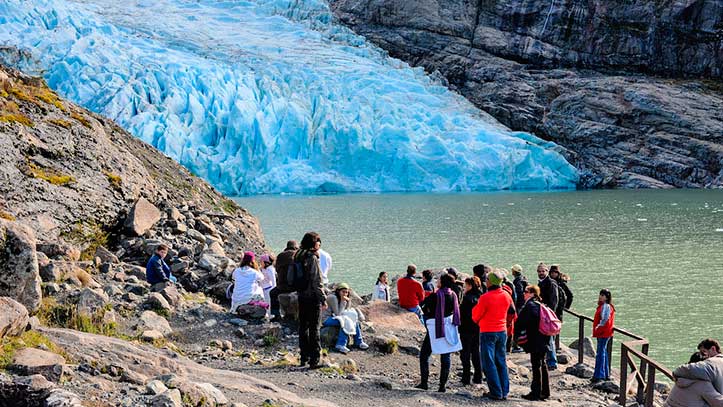 An early start after breakfast takes you on a full-day excursion to Torres del Paine National Park, a UNESCO World Heritage biosphere. We will be traveling through Patagonia's rugged steppe country, an important habitat for many endangered species. It is easy to see herds of sheep and native guanacos (animals that look like a cross between a llama and a camel) and notice the rugged snow-capped Torres del Paine mountains towering in the background. Visit Salto Grande waterfall on the Pehoe River and Patagonia's lovely lakes Pehoe and Grey, overlooked by the snowy white peaks of Grey Glacier. The excursion returns to Puerto Natales in the evening.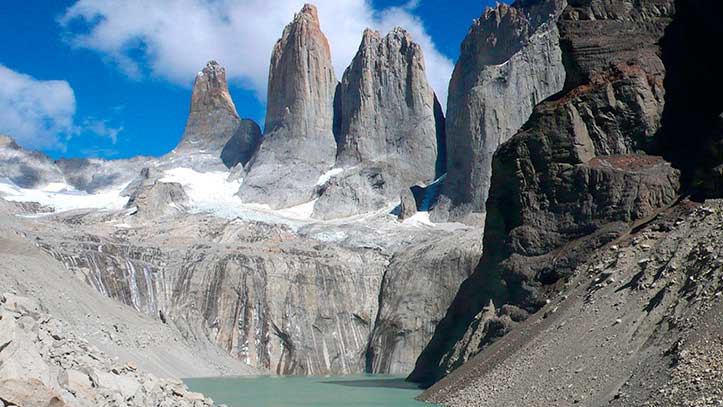 After breakfast, a transfer takes you to Puerto Natales bus station to catch an onward bus to El Calafate on Argentinian side of the mountains. After arrival trasfer to the hotel and free time to enjoy scenery. It is highly recommended that you take time for a sunset visit to the bird's reserve at Nimez Lagoon.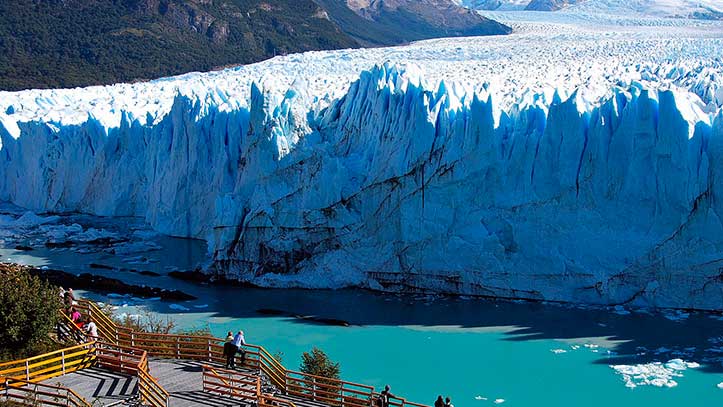 This trip to an impressive natural wonder and due to its extension and height, it has become world famous for its easy access, continuous advance and the loud loosening of huge icebergs. The Parque Nacional Los Glaciares (Glaciers National Park) area is home to other important glaciers such as Upsalla, Onelli and Spegazzini. After an early breakfast, you'll leave for a full day excursion to Perito Moreno Glacier. Once inside Los Glaciares National Park, you'll follow the route around Lago Argentino where 50 miles (80km) from El Calafate, Perito Moreno Glacier lies imposing with its 200 foot (60 meter) high ice walls. Follow the paths that lead you to face the glacier and get different impressive views, all while continuous detachments and constant ice breaking noises echoes in your surrounds! Return to the hotel in the evening where many restaurants offer local delicacies and impeccable service. It is highly recommended trying the famous "Cordero al Asador". After long day return to the hotel and rest.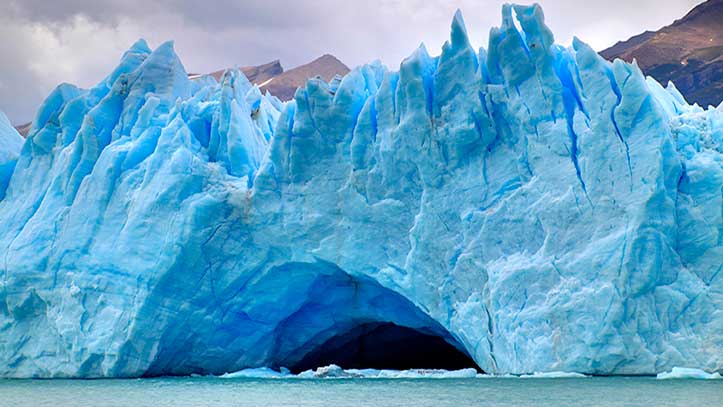 At the appropriate time, you'll be transferred to the airport from where you will have a flight to Buenos Aires. After arrival tranfer to the hotel and free time.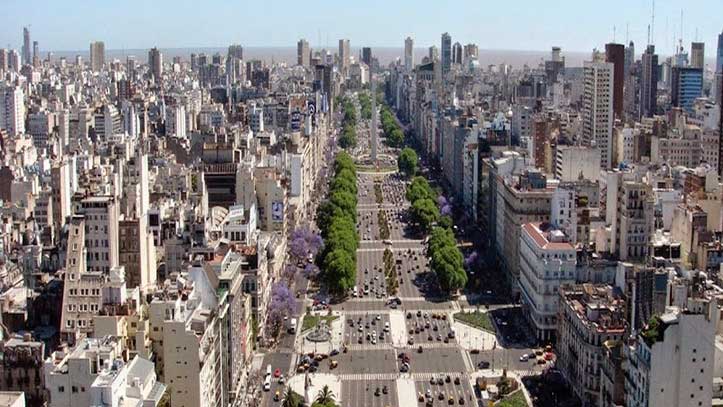 Today we will have a great oportunity to explore World´s Capitol of tasty steaks and great wines. We will take you for a City tour and after during the evening to Tango Dinner show in a centre. Be prepare for experience of your lifetime.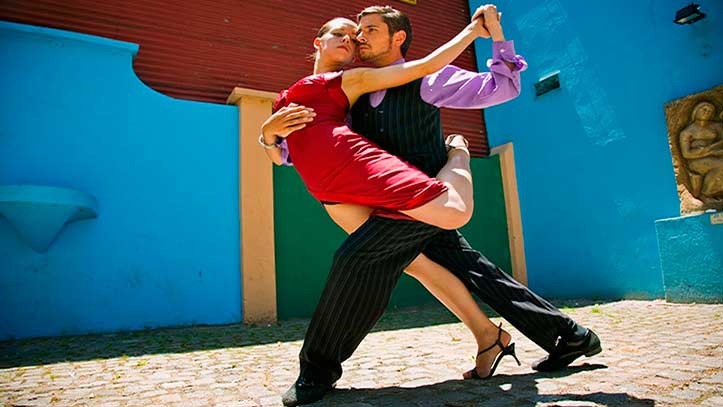 Transfer to the airport. End of trip.
Flight Lima – Santiago di CHILE
All transfers in and out
2 nights in hotel*** with bathroom, wifi and breakfast
City tour in Santiago de Chile
Flights LIMA-SANTIAGO DI CHILE-PUNTA ARENA-SANTIAGO DI CHILE
All transfers in and out
3 nights in a hotel*** in Puerto Natales with bathroom, wifi and breakfast
1 night in a hotel*** in Punta Arena with bathroom, wifi and breakfast
½ day tour to Isla Magdalena (pinguins)
3 days tour to Glaciers (Puerto Natales, Balmaceda and Serrano, Torres del Paine)
Bus ticket from Puerto Natales to El Calafate
2 nights in a hostel in El Calafate with bathroom, wifi and breakfast
1 day trek to Perito Moreno Glacier
Flight El Calafate to Buenos Aires
All trasfers in and out
2 nights in a hotel*** with bathroom, wifi and breakfast
City tour with Tango dinner show in the evening
Some of the meals
Tips for local guides