A trek through dramatic Andean scenery and a rich variety of cultures, centered on the magnificent Lares surrounded by magnificent snowy peaks and many hot springs.

You are going to visit highland villages where life goes on much as it did centuries ago and local inhabitants perpetuate the Inca customs of their ancestors: original clothing and traditional farming, alongside llamas and alpacas helping to produce the best qualities of corn and potatoes around the world.

From those elevated, open spaces we descend into the lush forests around Machu Picchu, enjoying a wide variety of flora, fauna, wildlife and spectacular panorama, our trip ending with a magnificent sunrise and visit to the famous 'lost city'.

Lares trek is ideal for travellers in search of alternatives taking you through rural communities in the breathtaking Sacred Valley of the Incas.
DAY 1
5:00 am
Bus till Lares
11:00 am to 4:30 pm
Hike :
Lares – Pascana – Quishuarani
DAY 2
7:00 am to 4:00 pm
Hike :
Quishuarani – Cancha Cancha
DAY 3
8:00 am to 12:30 pm
Hike :
Cancha Cancha – Huaran – Ollantaytambo
14:55 pm
Train to Machu Picchu
Optional: visit of the Hot Springs in Machupicchu Pueblo
DAY 4
6:00 am to 4:00 pm
Full Day at Machu Picchu:
Guided tour
Free Afternoon
Free Afternoon
At 5:00 am our guide picks you all up from your hotels and we drive through the Sacred Valley turning at the town of Calca to head to Lares village – the drive takes around 3 hours. Once we arrive in town we go up to the Hot Springs where we can relax and enjoy these beautiful outdoor hot waters. Lunch is provided here.

Our bus awaits us during this time and we then continue our journey for around 20 minutes to the start of the trail known as Pascana. Here we meet up with our horsemen and pack the horses and llamas. We are ready to start our hike to Quishuarani for around 3 hours. When we get to our campsite everything has already been set up for us. In the free time in our hands we can come across some of the locals and appreciate their weaving techniques.

This is a lovely day filled with great landscapes and the opportunity to visit several Andean villages. Beware as the temperature drops at night so you should be ready with warm outfit.

Meals:
Lunch - Tea Time - Dinner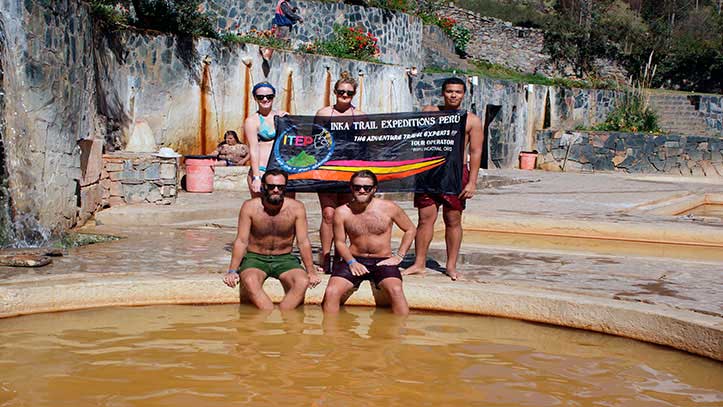 After a delicious breakfast we leave Quishuarani. This is going to be our longest day on the trail as we continue north east up the valley, passing small thatched stone houses. After ½ hour the path flattens out before climbing steeply for the 2½ hour trek to the highest passage, called Pachacutec Pass (4758m). From here you are rewarded with superb views of Pachacutec Lake and the snowy peaks of Pitusiray.

The path continues for an hour along a narrow ridge until dropping down into a beautiful secluded corrie filled with glacial lakes. We have lunch in that beautiful place. We then keep on following the lip of the corrie descending into the next valley, and we pass by a series of cascading waterfalls until we reach the village of Cancha Cancha. We camp here for the night.
Meals:
Breakfast - Lunch - Tea Time - Dinner.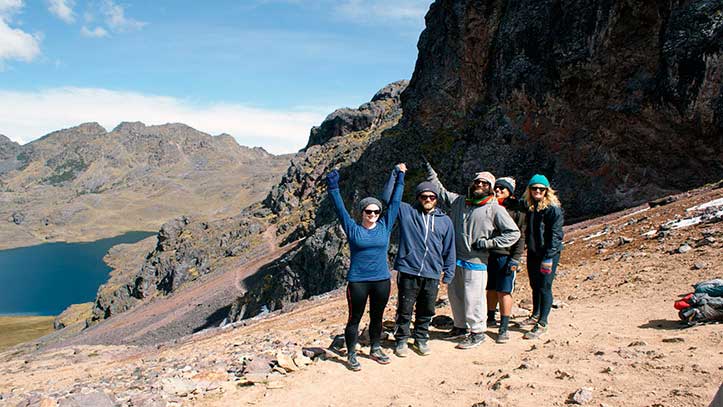 After a delicious breakfast we start our easier hike of the day following the small Cancha Cancha River. It's a 4 hour trek to our destination, the small village named Huaran. From here we take a local transport to the town of Ollantaytambo, a beautifully well preserved Andean town you have some time to explore before boarding on the 3:00 pm train to Aguas Calientes. We spend the night in a nice hotel in Machu Picchu Pueblo.
Optional:
you can give an early night visit to the Aguas Calientes' Hot Springs where the entrance fee is US $4.
Meals:
Breakfast - Lunch - Tea Time - Dinner.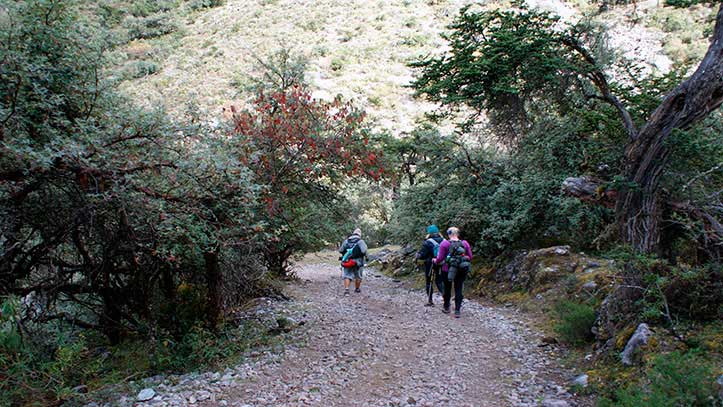 We have breakfast and then take the 6:00 am bus up to Machu Picchu to enjoy the beautiful sunrise. A walking tour of approximately 2 hours is then given by your tour guide, after which you can explore the mysterious city all by yourselves.

If you got your Waynapicchu entrance ticket (entry limited to 400 people daily for an additional cost of US $ 15.00 so you should better get it when you book your tour) you can also climb the neighboring mountain Huayna Picchu (2720m/8890ft). Keep in mind that it takes about 45 minutes to reach the top so you might seriously reduce your time on the prestigious site.

Once you are filled with those mystical vibes, we take the bus back to Aguas Calientes to get on the Expedition train back to Ollantaytambo followed by a bus to Cusco. We are in Cusco at around 10:30 pm.


Meals:
Breakfast.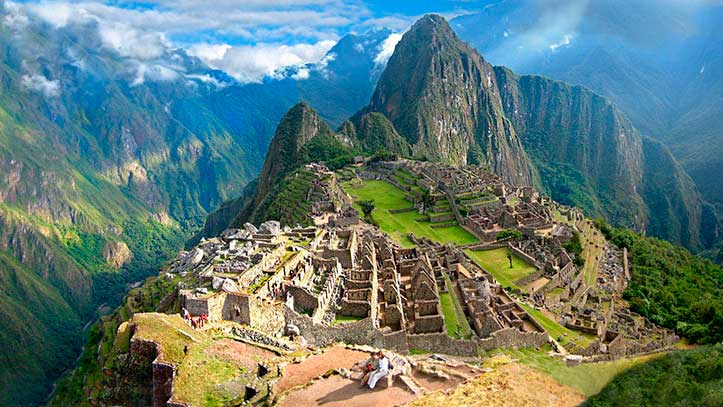 The itinerary and campsites are subject to change depending on the time of booking. It can also vary depending on the climate or the health status of the trekkers. The train (to and from Ollantaytambo) included in every tour is the Expedition Service.

Train times will only be confirmed near the time of the trek; thus if you join a group later we cannot guarantee you will be travelling on the same trains as the rest of the group. Train times are also subject to change depending on the train company timetables or availability.
Transfers In / Out
Transportation from Cusco to Lares where we start walking
Professional bilingual tour guide
Assistant tour guide (for groups of 9 or more people)
Entrance fee to Machu Picchu
Train ticket from Ollantaytambo to Machupicchu
Bus tickets to Machupicchu Inca City and Machupicchu town
3 breakfasts, 3 lunches, 3 afternoon snacks, 3 dinners and various snacks to be eaten throughout the day; the first breakfast and every meals after the breakfast on day 4 are not included
Professional cook: all our fresh vegetables are washed in iodine water prior to serving and we provide only boiled, filtered or iodized water for drinking. Vegetarian food on request at no extra cost! All dietary requirements from vegans, lacto-allergies and general dislikes can be catered for so long as prior warning is given when booking the trip
Drinking water for every meal
Dining tent with tables and chairs
First aid kit
1 oxygen tank
Horses and llamas (to carry tents, food and cooking equipment)
Duffle bag (in which you can put up to 6 kilos of your personal belongings - your sleeping bag included)
Horse men
Quadruple & waterproof Camping tent (cap. 4 fitting 2)
1 sleeping mattress per person
1 night in a touristic hotel in Aguas Calientes
Expedition train ticket from Aguas Calientes to Ollantaytambo
Transfer from Ollantaytambo train station to your hotel in Cusco
To qualify as a student, it is necessary to have a valid ISIC card. Scan the card and email us the copy at the time of your booking. We will then offer a $20 discount per student
For children younger than 16, we offer a $20 discount (you also need to scan and email us a copy of the passports)
Original passport (and International Student card (ISIC) if applicable)
Sleeping bag (not included but can be hired from us)
Walking boots
Waterproof jacket/rain poncho
Warm jacket, hat and gloves
T-shirts
Comfortable trousers
Sun hat
Sun glasses
Sun protection cream (factor 35 recommended)
Re-usable plastic or metal water container or camel bags
Water, water purification tablets r money to buy water along the way
Insect repellent
Insect repellent
Personal medication
Personal medication
Torch with spare batteries (headlamps are useful)
Shorts
Walking stick (with rubber tip)
Plasters and bandages
Plasters and bandages
Extra money
Extra money
DAILY DEPARTURE CONFIRMED 100% GUARANTEED DEPARTURES
Every departure is now guaranteed to run. Yup, all of them.
Our Travel Agency is pleased to present our guests with a variety of favorite
tour programs that are available on a daily departure basis. With a minimum
of 2 passengers, we offer tours to Perú and Southamerica and many other well-known
destinations in America every day throughout the year.