The tropical Inca Jungle Trail is a new route offered by our company which involves biking, rafting, zipline, trekking and all around adventure! Recently discovered authentic Inca paths, archaeological ruins, and amazing views make this excursion an unforgettable experience.

Biking and trekking in the forest for the first few days, your trip ends with a view of the valleys below from Machu Picchu at sunrise.
DAY 1
6:00 am
Bus till Alfamayuc
10:00 am to 2:00 pm
Bikking experience
River Rafting Experience
Alfamayuc – Santa Maria
DAY 2
8:00 am to 4:00 pm
Hike:Santa Maria – Qellomayo – Santa Teresa
Zipline experience:
Visit of the Hot Springs in Santa Teresa
DAY 3
8:00 am to 4:00 pm
Hike to Machu Picchu:
Santa Teresa – Llactapata– Machu Picchu Pueblo
DAY 4
6:00 am to 4:00 pm
Excursion to Machu Picchu:
Guided tour
Free Afternoon
Return by train to Ollantaytambo and bus to Cusco
Optional: visit of the Hot Springs in Machupicchu Pueblo
(Included: Biking, Rafting, Zipline and a full day in Machu Picchu)
At 6:00am we will start the tour with a transfer from your hotel to Alfamayuc. Our destination for the day will be the small village of Santa Maria at 1,430 meters. On our way, we'll see rolling hills and snowcapped peaks of the Mountains. We will have some opportunities to take some pictures along the way as well. We will arrive in Alfamayuc and go on riding for a number of hours by bicycle to Santa Maria. The 3 - 4 hour downhill ride is exhilarating and relaxing at the same time.

When we arrive, we will have some free time to rest

In the afternoon we will have the option to do white water rafting until the afternoon in Santa Maria (rafting level III)

Explore the village on your free time before having dinner. Overnight will be at a local hostel.


Meals:
Lunch - Dinner.
We begin the day with a healthy breakfast, and then we will walk through the tropical forest for a short period along the road before taking a trail through coffee and coca plantations and passing through farms which grow tropical fruits. After climbing for a while we will connect with a "tropical Inca trail", an original Inca Path. There are great views along this section as we descend down some impressive Inca stairs while admiring the canyon of the Vilcanota River. Please note, this is VERY challenging for those with vertigo or a fear of heights! There will be many photo opportunities on the way. We will also have a chance to visit the local Coca Plantation. Because in Santa Teresa there is an option to do zip line, Our group will be transported to the place where will be organized this activity. This part will take around 2 hours. After zip line this group will be taken by bus to our Village

At last, when we arrive in Santa Teresa, we will be able to enjoy the hot springs which is optional (not included in price). We will relax there until it is time for dinner. We will overnight in a nice local hostel in Santa Teresa.

Meals:
Breakfast-Lunch-Dinner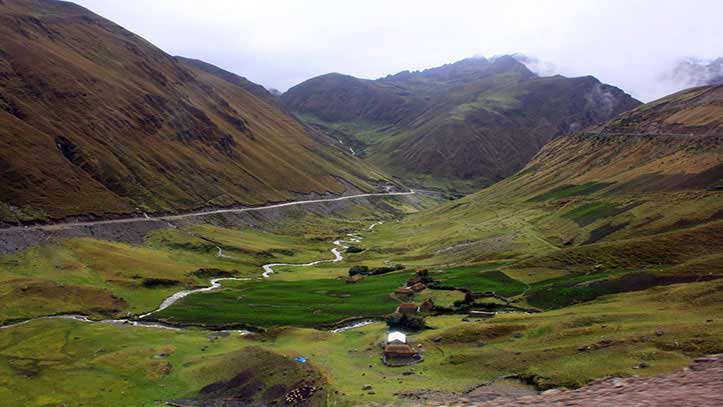 After breakfast, we will head to Lucmabamba, where we'll start climbing to reach the Patallacta archaeological ruins and follow a large tract of real Inca trail. From this point you can see the Inca city of Machu Picchu. We then descend for 1 hour, to a beautiful waterfall, reaching Hidroelectrica. After having lunch, we will continue heading to Machu Picchu Pueblo and visit the Mandor Waterfall. We will spend the night in a comfortable hotel in Aguas Calientes (Machu Picchu Pueblo). In the evening you can take the opportunity to explore the Hot Springs of Machu Picchu Village.

Meals:
Breakfast-Lunch-Dinner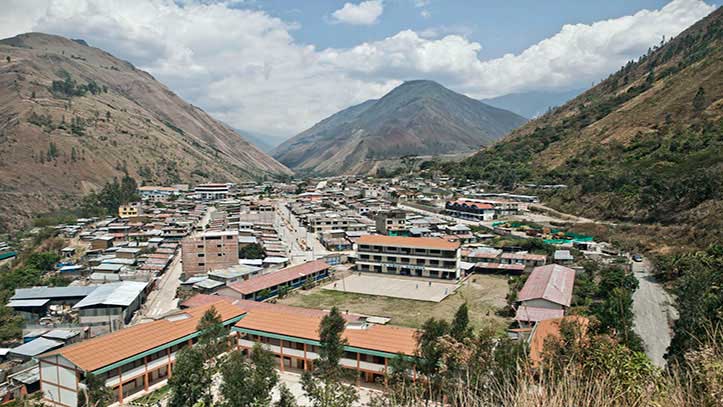 We will have breakfast and then take the bus (8 am) up to Machu Picchu. A walking tour of approximately 2 hours is given by your guide and after this you can explore the mysterious city by yourselves. If you have energy you can also climb Huayna Picchu (2720m/8890ft)! (It takes about 45 minutes to reach the top.) Optional evening visit to the Hot Springs: entrance fees US$4.We'll take the Expedition train back to Ollantaytambo and a bus to Cusco. We'll be in Cusco approximately at noon.

Meals:
Breakfast.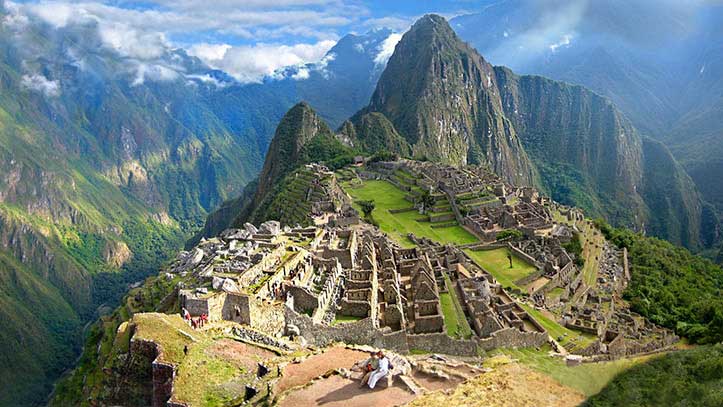 Itinerary is subject to change depending on time of booking and campsites spaces at the moment that we arrive
The camps can vary depending on climate and health status of clients.
Train included in all tours is Expedition Train (to-from Ollantaytambo). Train times will only be confirmed close to the time of the trek, if join a group late in the day we can't guarantee you will travel on the same trains as the rest of the group.
Train times are subject to change depending on Peru Rail time table and availability.
Transfers In / Out
Transportation Cusco-Alfamayuc. (Start biking)
Professional bilingual Tour guide.
Assistant tour guide (for groups of 9 or more people)
Entrance Fee to Machu Picchu.
Bus tickets to Machu Picchu Inca City and to Machu Picchu Town (Aguas Calientes).
3 breakfasts, 3 lunches, 3 dinners. Meals after last breakfast on day 4 are not included.
Professional Cook: all our fresh vegetables are washed in iodine water prior to serving. Vegetarian (vegan) food on request at no extra cost! All dietary requirements from vegans, lacto-allergies and general dislikes can be catered for so long as prior warning is given when booking the trip
1st Aid Kit
01 Oxygen Tank
Bikes and biking equipment.
Rafting tour and rafting Equipment
Zipline and equipment
02 nights in basic hotel in Santa Maria and Santa Teresa.
01 night in basic hotel in Aguas Calientes.
Return train tickets Expedition Train (Machupicchu to Ollanta) and bus to Cusco
Transfer to Hotel
Train Included in all tours is Expedition Train (to-from Ollantaytambo). Train times will be confirmed close to the time of the trek. If you join a group late in the day we can't guarantee you will travel on the same trains as the rest of the group.
Train time are subject to change depending on Peru Rail time tables and availability
To qualify as a student, it is necessary to have a valid ISIC card. Scan and email us the copy at the time of booking. We offer a $20 discount per student.
Children younger than 16: we offer a $ 20 discount per child (you will need to scan and email us a copy of the passports).
Children younger than 7: we offer a $50.00 discount per child (you will need to scan and email us a copy of the passports).
Original passport (and International Student card (ISIC) if applicable)
Walking boots
Waterproof jacket/rain poncho
Warm jacket, hat and gloves
T-shirts
Comfortable trousers
Hat
Sun protection cream (factor 35 recommended)
Re-usable plastic or metal water container or camel bags.
Water, water purification tablets, or money to buy water along the way
Insect repellent
Toiletries
Personal medication
Camera
Torch with spare batteries (headlamps are useful)
Shorts
Walking stick (with rubber tip)
Plasters and bandages
Sandals
Extra money
Bathing suit (for the hot springs in Aguas Calientes) where the entrance fee at the door is US$4
DAILY DEPARTURE CONFIRMED 100% GUARANTEED DEPARTURES
Every departure is now guaranteed to run. Yup, all of them.
Our Travel Agency is pleased to present our guests with a variety of favorite
tour programs that are available on a daily departure basis. With a minimum
of 2 passengers, we offer tours to Perú and Southamerica and many other well-known
destinations in America every day throughout the year.